Modern Greek Studies Multimedia Gateway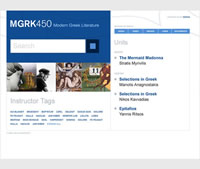 George Syrimis partnered with the CMI2 to create a web-based resource about modern Greek literature and culture for use in its Hellenic Studies Program. This online resource offers Yale students and academics the opportunity to contextualize selected readings with multimedia content collected for and connected to the primary texts. The multimedia study environment not only offers distinct units of study corresponding to course curricula, but also enables thematic and self-guided exploration. Visit Site (log-in required)
Greek Folktales for Learning Modern Greek
Maria Kaliambou: The Routledge Modern Greek Reader

Greek Folktales for Learning Modern Greek is an anthology of twenty five Greek folktales organized according to level of difficulty. Features also include comprehension questions, language exercises, three folktales in different dialects, vocabulary lists with English translations and complete Greek-English glossary. It is suitable for both class use and independent study. Students can develop their linguistic skills while simultaneously engaging with the broader social and cultural context of the language. Click for more information.
Modern Greek at Yale Booklet
The publication Learning about the Greek Revolution is the fourth booklet of the series Modern Greek at Yale. The series includes the creative and reflective writings of students learning modern Greek. The 2021 edition was published in an important year for Greece and for the Hellenic Studies Program at Yale as we celebrate two important events: the two hundredth year anniversary of the Greek Revolution, and twenty years of the Hellenic Studies Program at Yale! View here. View previous booklet here. 
Interviewing Greek-Americans,
Modern Greek at Yale: Fall 2012, Maria Kaliambou (ed.)

 

The publication showcases a selection of individual and collective creative writings, among them fairy tales, poems, and short stories, written by students of Modern Greek from all language levels during the spring semester 2011. The publication was funded by the Council of Masters' Creative and Performing Arts Award, Yale University.

 
Language Resources
The materials used for the projects below have been collected and produced for educational purposes only and may not be reused without prior written authorization from Yale University.

Electronic Pictionary
The project is based on the flash-cards method of vocabulary acquisition and has Greek-English and English to Greek pathways. Besides the basic vocabulary the database includes pictures for most nouns, sentences for all verbs, as well as audio reinforcement of both vocabulary and sentences. Students are able to pick and choose from the entire database according to
chapter units
part of speech (nouns, verbs, adjectives, etc.)
thematic units (family, travel, public services, food, etc.)

Alphabetical index
The project is intended for students of Elementary Modern Greek. A database (LEXIS2) for intermediate students is also under development and available but with limited features.
http://archive.cls.yale.edu/lexis/
http://archive.cls.yale.edu/lexis2/
Conceived and designed by George Syrimis and assisted by Christina Katsougiannopoulou-Ewald and Gerasimus Katsan.
Video Clips Set "IKONES"
The project contains twelve short five minute video selections in Greek from Greek cinema and television. Assignments focuses on comprehension with multiple choice questions and on writing where students are asked to respond to specific questions. Students are provided with extra vocabulary lists for each clip as needed. The project is intended for students of Intermediate Modern Greek.
NOTE: Please do not email your answers to the questions to the instructor. At this point any responses will go to our instructor at Yale.
Conceived and designed by George Syrimis and assisted by Christina Katsougiannopoulou-Ewald. Technical assistance from Vincent Cangiano at the Center for Language Study at Yale University.
CRAFT: Themata
Intended to supplement both elementary and intermediate courses in Modern Greek language, the Themata project utilizes a software template designed to facilitate independent structured study of authentic materials on the web. On the elementary level the project allows students to expand their development of vocabulary, reading and comprehension through assignments chosen to compliment the basic level of their language knowledge. On the intermediate level the purpose of this approach is to develop reading, comprehension, research and analytical skills in the language, as well as to expose students to a range of theme-based material that serve as an introduction to contemporary Greek culture. Modules include topics such as geography, art, literature, history, food, tourism, folk-culture, music, immigration, economics, current events, and politics. Assignments focus on analytical thinking, synthesis and expression or understanding of complex ideas. The project is currently only available to members of the Yale community. Visit http://comet.cls.yale.edu/.
Other Teaching Projects
Dynamic Images of Byzantine Church Interiors
A collection of three-dimensional images of interiors of Byzantine churches in Greece. The collection will be part of the website for the course "crossroads of European Civilization," taught by Maria Georgopoulou.
Click here to visit Greek Byzantine panoramas (currenlty available to Yale students, staff and faculty only).
Conceived and designed by Maria Georgopoulou and assisted by Vassilis Marinis.
Outreach
Programs in International
Educational Resources (PIER)
The Whitney and Betty MacMillan Center for International and Area Studies at Yale has a long history of commitment to the dynamic outreach programs in its area and international studies councils. The Programs in International Educational Resources (PIER) draw upon Yale University's extensive resources to develop and implement programs, services, and resources designed to advance understanding of international and world regional issues through outreach to education, business, media, and the public.
To maximize services and resources, the outreach programs were allied in 1993 under the rubric PIER, Programs in International Educational Resources. PIER also collaborates as appropriate with other MacMillan Center councils, programs, and initiatives as well as on issues of slavery, resistance and abolition with the Gilder Lehrman Center.
Since its inception, PIER has made use of the scholarship of Yale's outstanding faculty and staff in the promotion of research, development of effective curriculum, dissemination of resources, and articulation of international and world regional issues.
Lesson Plans