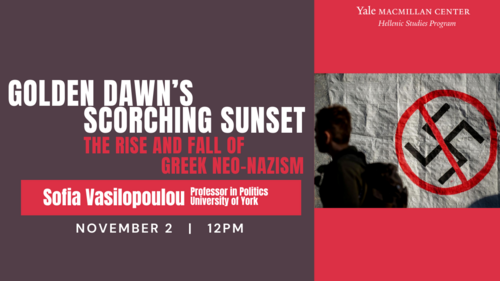 Dr. Sofia Vasilopoulou is a Professor in Politics at the University of York. Her work examines political dissatisfaction with democracy and democratic institutions across Europe. Specific themes include Euroscepticism, extremism, and loss of faith in traditional politics. Her research is situated in the broader fields of European Union Politics, Comparative European Politics, Political Behaviour and Party Politics.
Moderated by Paris Aslanidis, Lecturer at the Department of Political Science and the Hellenic Studies Program at Yale University. He studies populism in social movements and political parties, with a particular interest in the quantification of populist discourse and the intellectual history of the concept.
Watch on YouTube: https://www.youtube.com/watch?v=ujjyK2y2i7E
The activities of the Hellenic Studies Program are generously funded by the Stavros Niarchos Foundation Center for Hellenic Studies at Yale University.