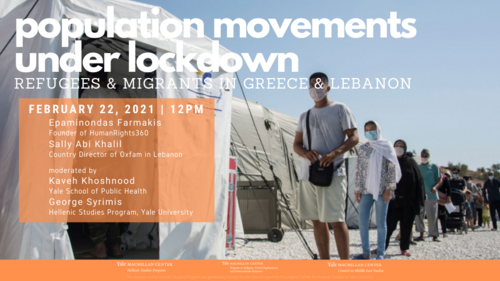 On February 22, Epaminondas Farmakis, founder of HumanRights360, and Sally Abi Khalil, Country Director of Oxfam in Lebanon, bring us up to date on the refugee and migrant experience during the Covid19 year in Greece and Lebanon. As the political and social landscape of Greece shifted with a new conservative government, the military response to the expulsion of refugees from Turkey in February 2012, the banning of the neo-Nazi and anti-immigrant party Golden Dawn, and the burning of Moria camp on Lesvos, we revisit the ongoing humanitarian crisis now under the worst medical threat of the century. Lebanon's proximity to Syria, the apocalyptic explosion at Beirut's harbor, and the exacerbation of chronic political corruption that has brought the country's economy to the brink of collapse, call for a reappraisal of and refocusing on this historic demographic shift that has been obscured by the pandemic and the concurrent political turmoil in the United States.
• Epaminondas Farmakis, Founder of HumanRights360
• Sally Abi Khalil, Country Director of Oxfam in Lebanon
Moderated by:
• Kaveh Khoshnood, Yale School of Public Health
• George Syrimis, Hellenic Studies Program, Yale University
Watch on YouTube: https://www.youtube.com/watch?v=PIClpIwHlLk
Co-Sponsored by the Hellenic Studies Program at Yale University, the Program on Refugees, Forced Displacement, and Humanitarian Responses, and the Council on Middle East Studies.
The activities of the Hellenic Studies Program are generously funded by the Stavros Niarchos Foundation Center for Hellenic Studies at Yale University.